Evening Race Meeting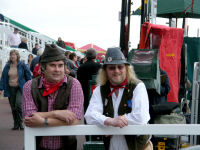 A special evening weekday race meeting with a full race card, and live entertainment from The Mangledwurzels. Please note that your tickets for the races include seeing the band.
Gates open at 4pm; first race: 6.05pm; final race 8.35pm. The Mangledwurzels will be performing a full 75 minute show after the final race.
Tickets from £11.00. Call the ticket hotline on 0844 5793014 or buy online. See the Wincanton Racecourse website for full details.
Ticket rules for children aged 17 and Under:
Children aged 17 and under need to be supervised by a paying adult.
1 adult can supervise a maximum of 2 children under 17.
Children under 17 without an adult to supervise them will be refused entry to the racecourse.