Farm Open Day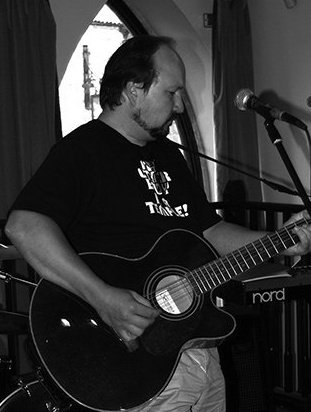 Gwynt Y Ddraig will open it's cider filled doors to the general public for cider, food and fun. Expect cider bars, burgers, some stalls selling spirits and traditional food in a farmers market kind of style. Families welcome!
The Mangledwurzels will be teaming up with old friend Ross Kirk (pictured right) to provide the entertainment; both acts will be performing between 2pm and 6.30pm.
Entry to our farm open days will be £5.00 per day. On entry your hand will be stamped (different colour stamp for Saturday & Sunday) to indicate to bar staff and site security that you have entered the event via the main entrance. The cost of the ticket will include one free pint or bottle of cider/perry when presented at the bar.
Visitors are welcome to camp over on the Saturday night but please note that the only facilities available are the portable toilets. If you are camping and plan to stay for the Sunday then please make this known to the staff on the gate so you can purchase the appropriate tickets for both days. (This will be a Saturday ticket and a Sunday ticket.) Please note that all campers will be visited on the Sunday morning just to ensure that they have purchased their Sunday ticket.
For those of you who attended the April open day you will remember that it was a tad busy so if you are planning to come we advise you to arrive earlier rather than later, as numbers are restricted… just to warn you, but hopefully it won't come to that.
Please note that entry to anyone under the age of 18 is free but only with an accompanying adult and under 18s will therefore will not be supplied with an entry ticket or have the entry stamp applied to their hand. Anyone attempting to purchase an entry ticket but is lucky enough to appear to be under the age of 18 will be asked to produce photo ID.