playing live at
King Arthur, Glastonbury
Friday 22nd September 2006

BBC Somerset reviewer John Higgins came along to this gig to check The Mangledwurzels out. His review has been posted on the BBC Somerset website.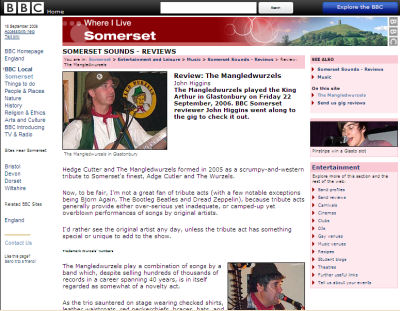 Considering the review is from someone who openly admits to not liking tribute bands, the band accepts this critique as a pretty unbiased view of the performance on the night and overall think they come out of it pretty well. There were a couple of factual errors in the review – so just to put the record straight...
'The Tractor Song' mentioned in the review is, in fact, one of the band's own compositions I Can Drive A Tractor (Frank Blades © 2005). However, to mistake one of their compositions for a Wurzels song is a compliment in itself! Also, the band don't normally put 'Poo' after 'Stuck in the Midden' - but admit that they do rather like the idea of the new title, and have now adopted it!
It was an interesting comment about the band being nervous. Us! Nervous? Never! Seth and Jethro may have been a bit 'ferry-lagged' as they had recently travelled back from their Ireland excursion. And, of course, there is the transition from Guinness and Murphy's back to proper Somerset Scrumpy that may have been a factor! As the band has played the King Arthur a few times before (and will be back next year!) they know the crowd there can be a little 'excitable', so they are always on our toes! There was that rather amorous (read 'drunken') lady who attached herself to Hedge... Perhaps she did make him a little nervous!
From a musical point of view, Jethro does have an accordion, but with only the two musicians in the band (Hedge still has that court order banning him from playing any musical instrument within two miles of an audience!), he can't play that as well as the tuba, bass guitar, banjo and piano all at the same time. The five-pound 'Casio keyboard' (it was actually a vintage 1980s Roland synth) has been upgraded!


return to top of page
Wurzels Tribute Night

Normal pub opening hours; The Mangledwurzels will be performing from 9pm.

Venue Info

King Arthur, 31-33 Benedict Street, Glastonbury, Somerset BA6 9NB

return to top of page