Enquiries Form
NB: To move to the next field use your TAB key – if you hit RETURN it will send your enquiry! (However, keep going to the end - we'd rather receive a multiple enquiry than lose an opportuntiy to quote for your event!)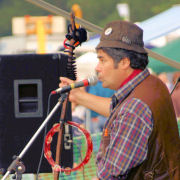 Please complete this form giving as much information as possible. The information you have sent us will be emailed to our Bookings Manager, Dave Sampson at Somersetmade Ltd. He will be back in contact with you with a quotation as soon as possible.
Do not worry! The completion of this document does not constitute a contract and is solely for enquiry purposes.
Note: If you have previously contacted an agent to fulfil a proposed enquiry, and they have already contacted the band, The Mangledwurzels would be beholden to deal solely with the agent regarding any such enquiry.
Click

button for additonal information.